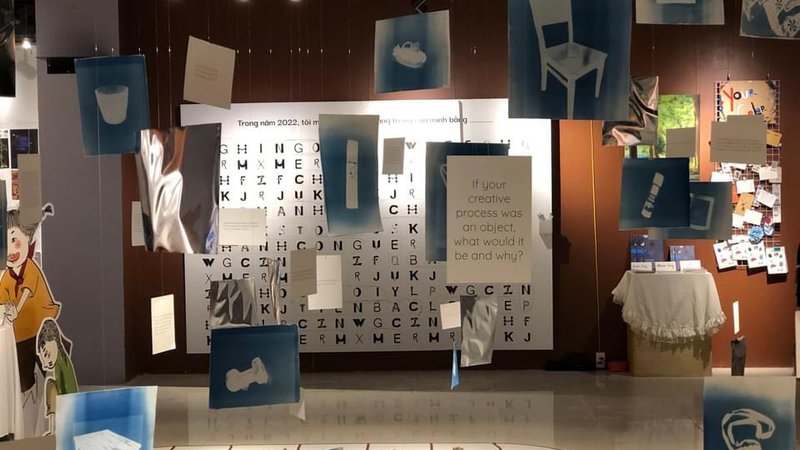 The graphic design exhibition called "Blank" took place at V-Art Space Hanoi to showcase projects by graphic design students.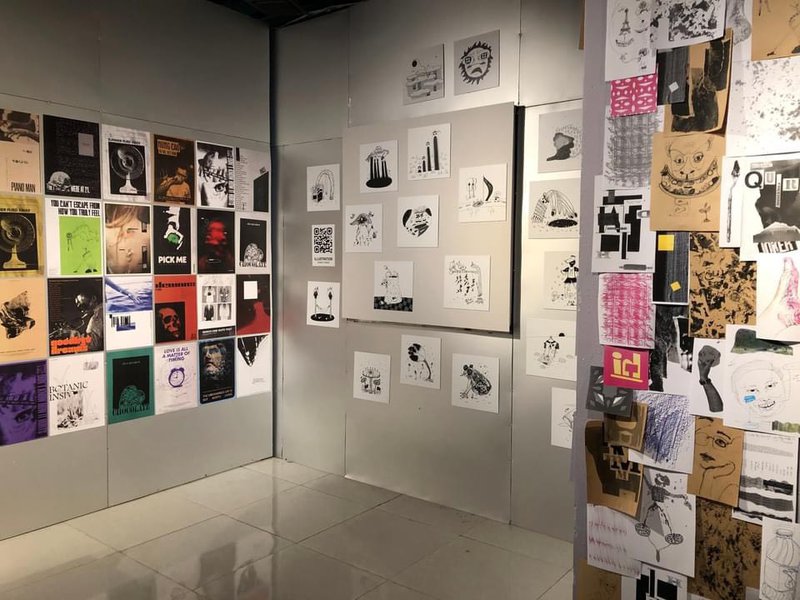 Being conceived during the time of social distancing, the works reveal different perspectives and ways of adapting when struggling in confined spaces. It is an opportunity for the students to settle down and give a sense of where they live through digital graphics, calendars, paintings, traditional folk games, or spend a long time alone experimenting with creative arts, etc.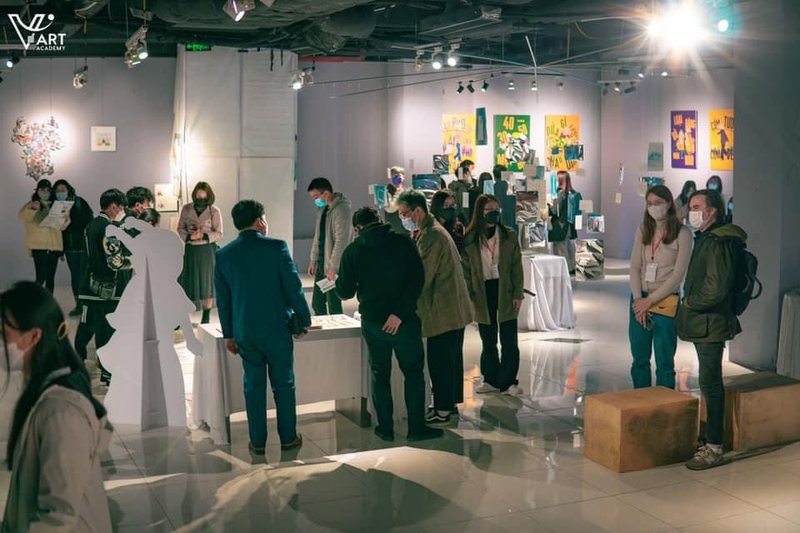 Photo: V-Art Academy
Tran Ly Kim Chi recreated Vietnamese street culture through street vendors with computer-generated illustrations.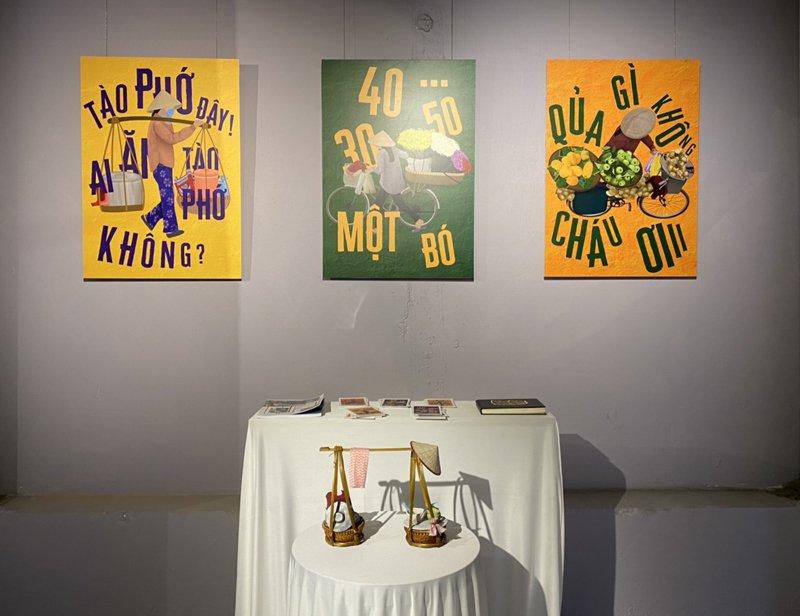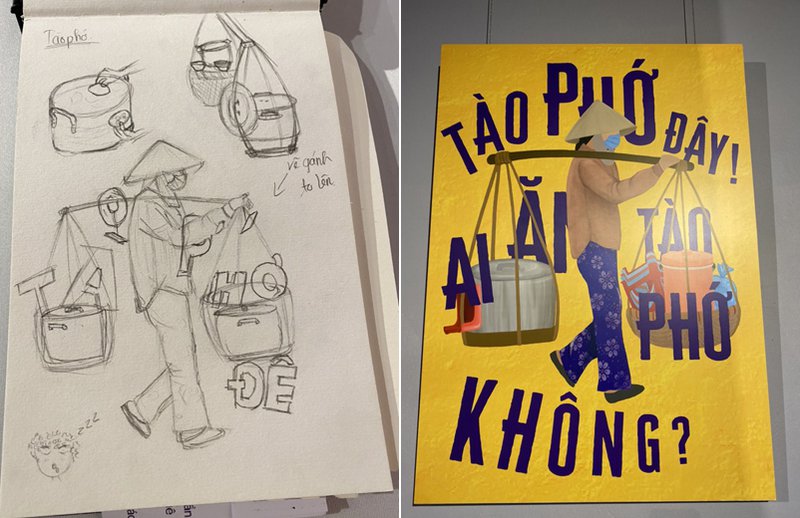 The sketch and finished illustration of a tao pho vendor – a famous street dish of Hanoi
Laura Sieber, a graphic design student from Germany who has been living in Hanoi for 2 years, introduces a very unique works by turning street photos into symmetrical patterns.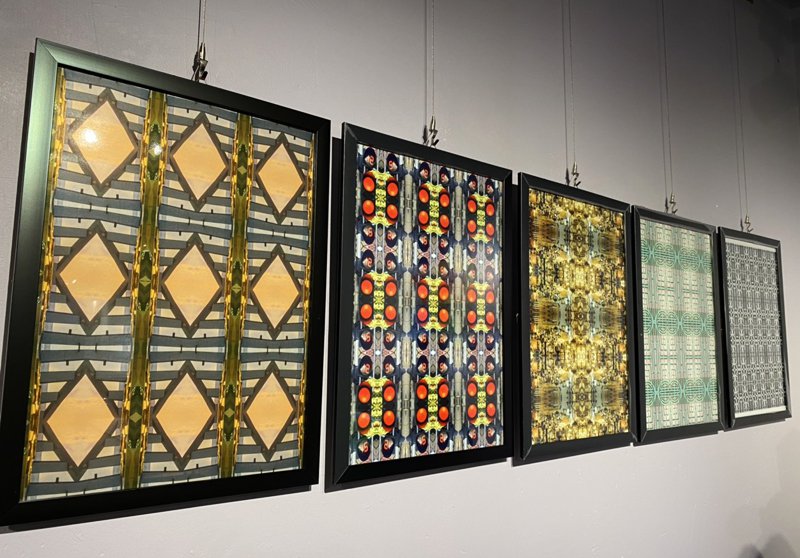 "With this project, I want to give people a new perspective through my lens as a foreigner living in Vietnam. The lockdown gave me more time to think about my life here. I received a lot of questions about Vietnamese culture, cuisine and people. The works showcased at "Blank" exhibition helped me to answer – Laura shared.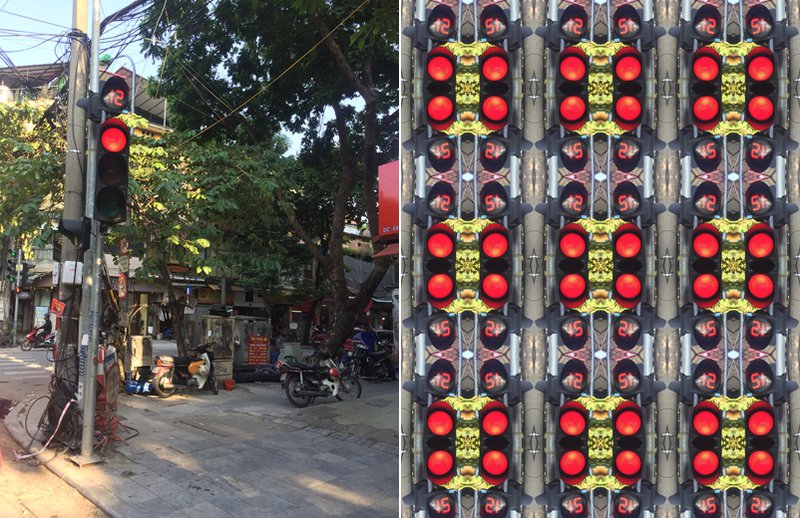 Creative work developed from a photograph of traffic light poles in Hanoi.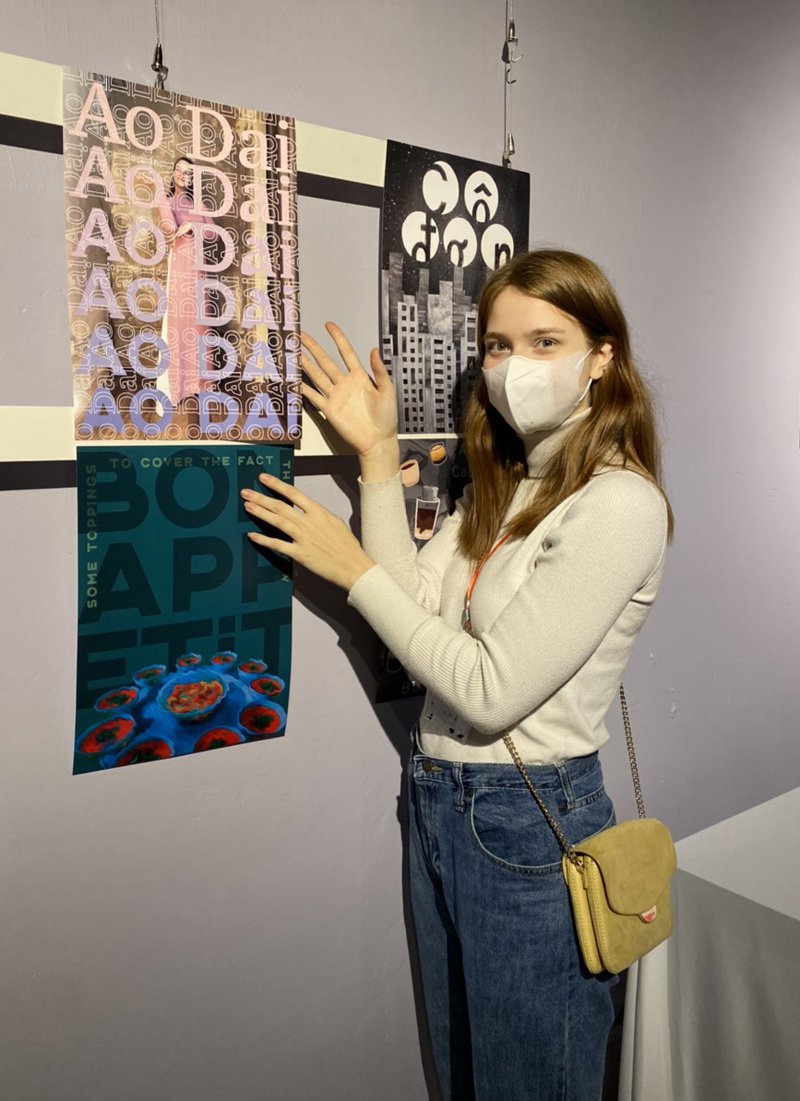 Ao dai is also one of the things about Vietnam that the German graphic designer found fascinating.
Moving from Tra Vinh to Hanoi to study, Nguyen Minh Chau fell in love with Hanoi and decided to show her feelings through a desk calendar and illustrations of Hanoi throughout 12 months of a year.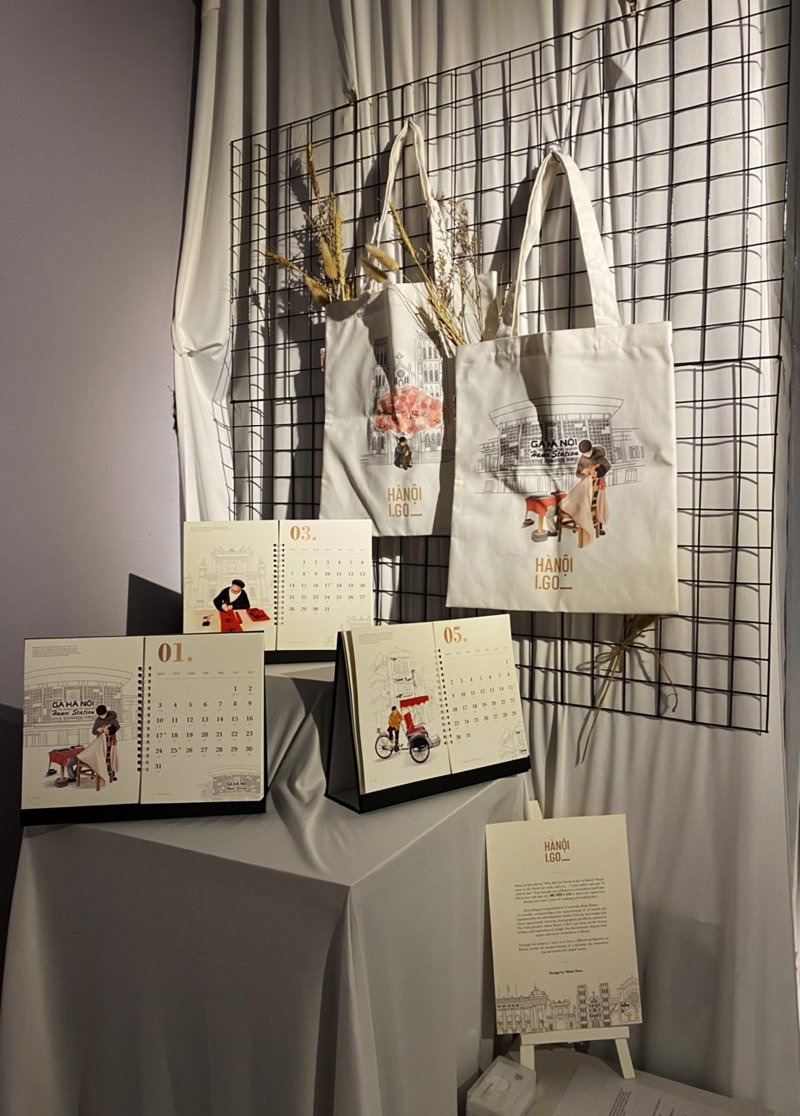 "Hanoi I Go is my personal experience after more than 2 years of living in Hanoi. All are encapsulated in the 12 illustrations about Hanoi corresponding to the characteristics of each month of a year. I don't only focus on the people, but also want to talk about the scenic spots and famous tourist destinations in Hanoi. Besides the modern beauty of a dynamic city, somewhere there is also a nostalgic and rustic beauty."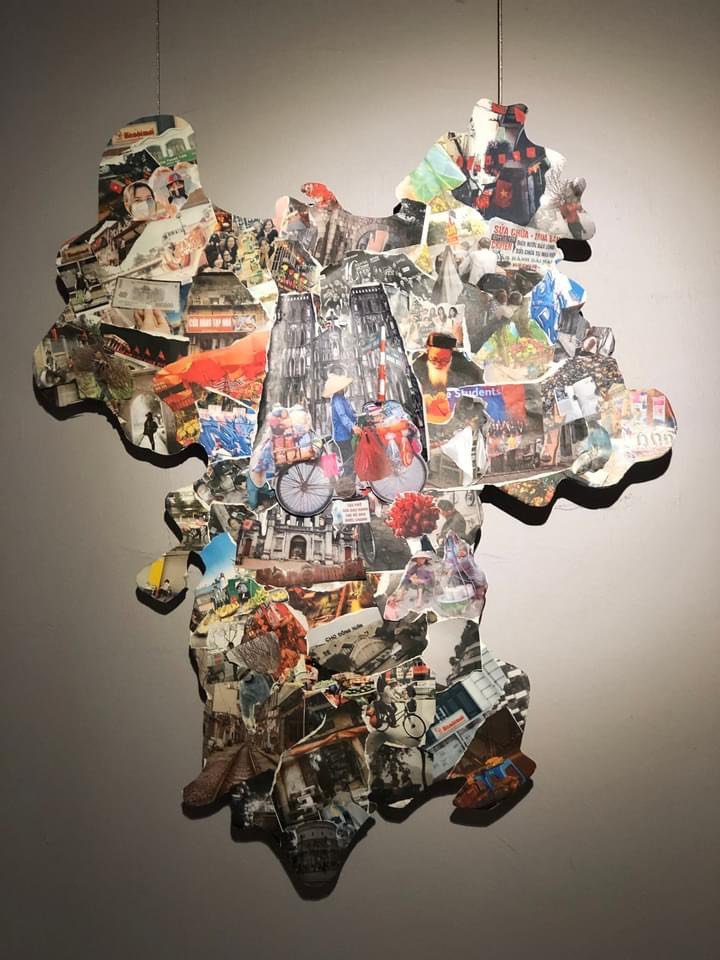 The map of Hanoi was created by collaging drawings and photographs of the city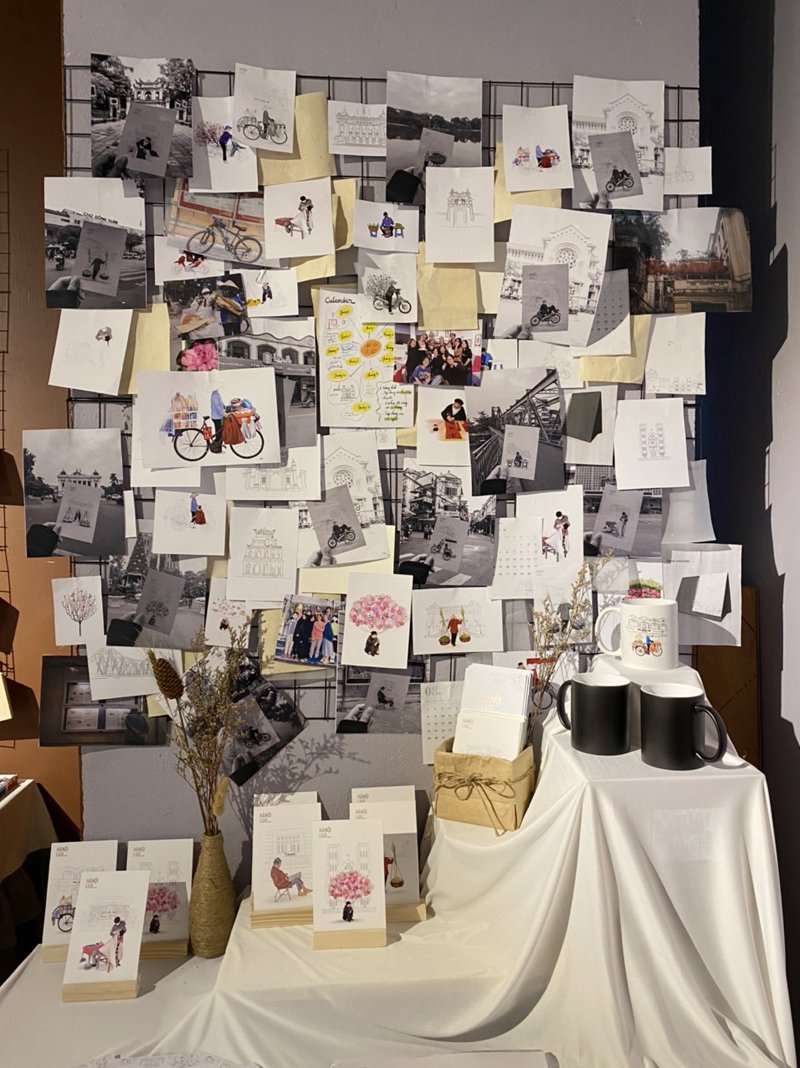 Nguyen Thi Minh Chau's corner is full of her love for Hanoi with photographs and illustrations.
For Tran Bao Ngoc, the Covid pandemic has caused a change in children's daily routines today. Spending most of the time inside, children now are more exposed to technology. Their childhoods seem to revolve around phones and computers without knowing that there are so many Vietnamese traditional folk games out there. That's why Ngoc chose to make a book about folk games for this project.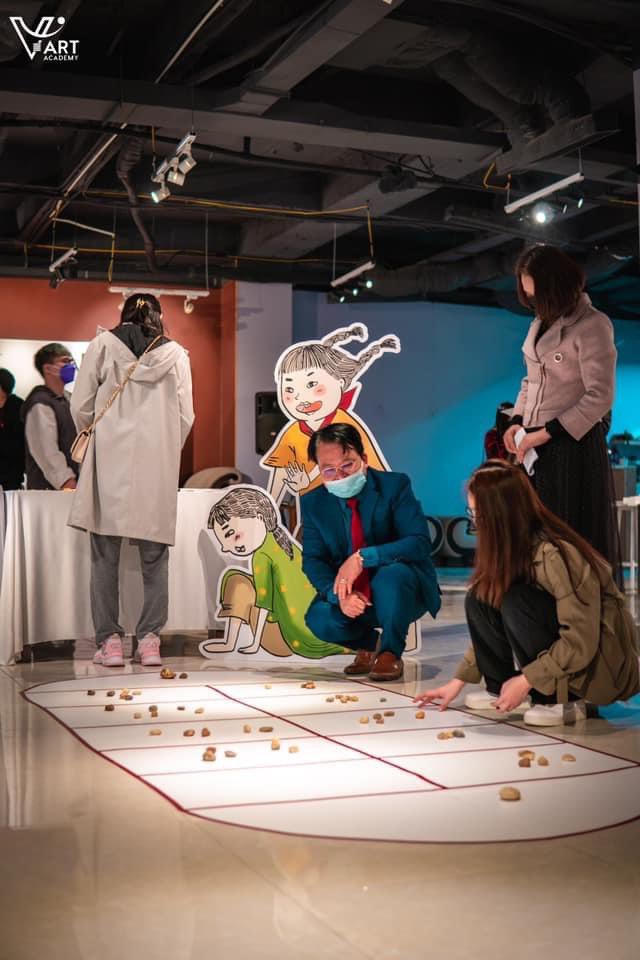 Ngoc's display area attracts many visitors with folk games like O Quan Quan, Catch the Ball, gyroscope, etc. (Photo: V-Art Academy)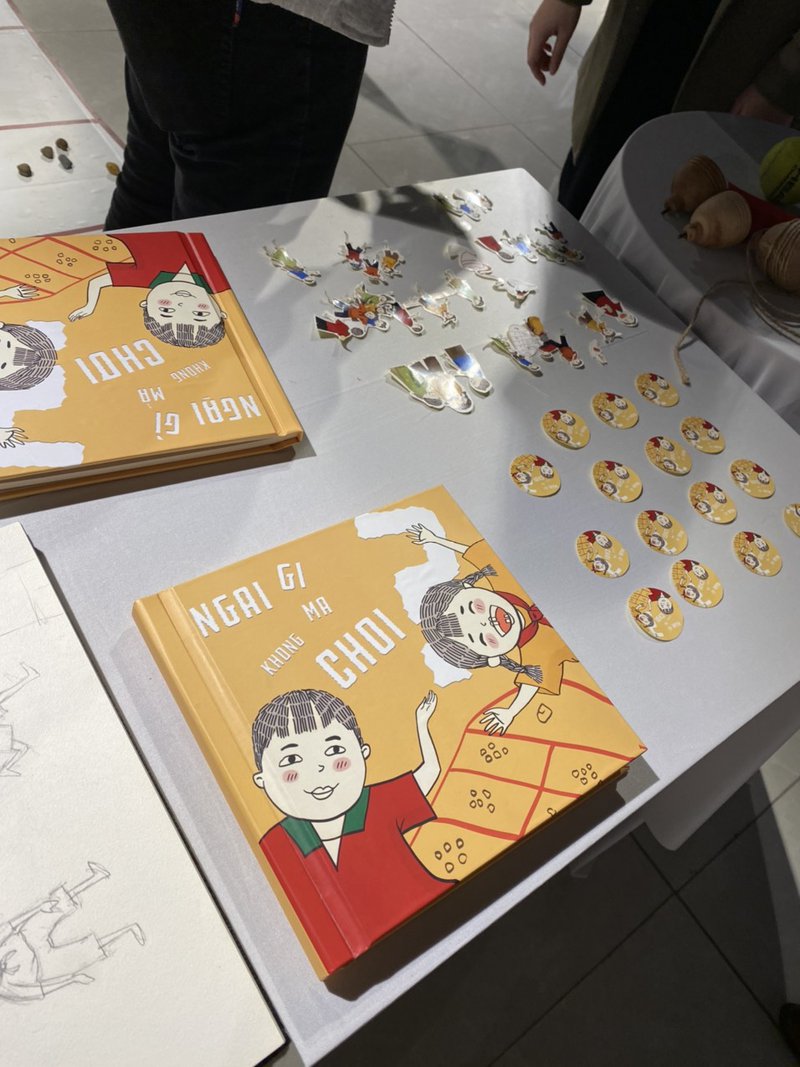 The book comes with instruction for Vietnamese folk games with funny and friendly illustrations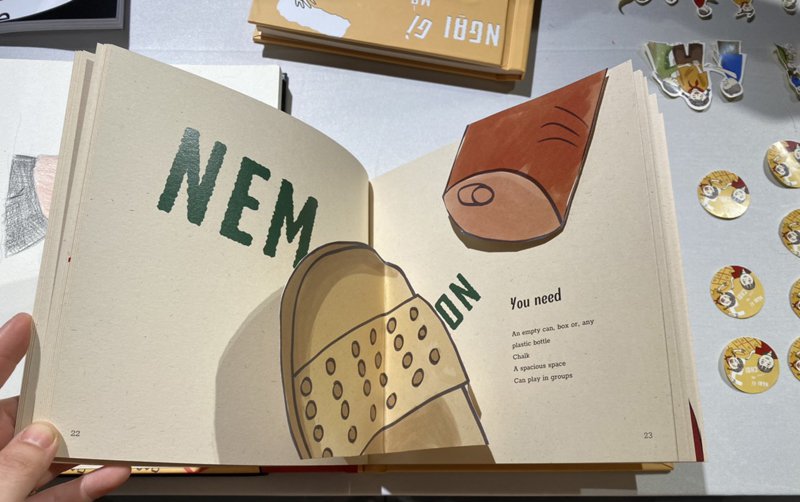 To fill the gap during the 3-month social distancing in Hanoi, Nhu Thu Huong chose to challenge herself with one poster, one illustration per day, as well as creative experimentations.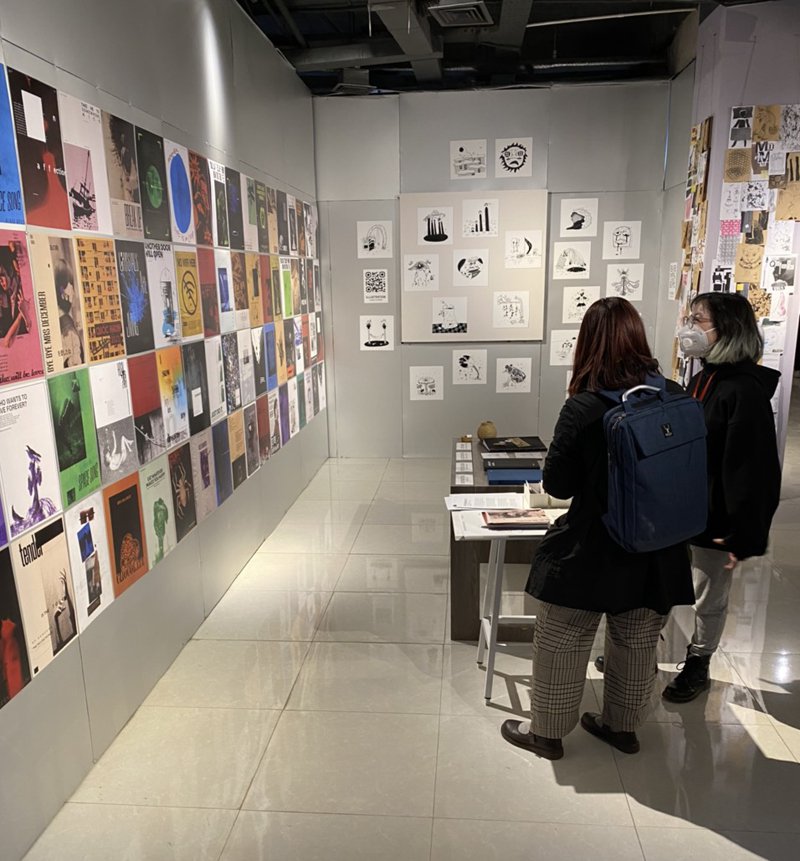 "Hanoi is under lockdown again. I was trapped in my bedroom for months, so I planned and drew mind maps to generate ideas. This is my first time doing three mini-projects about design, illustration, and art simultaneously. I tried to work every day to practice patience and skills. As a result, I got so many finished works. They turned out to be a convincing graduation project.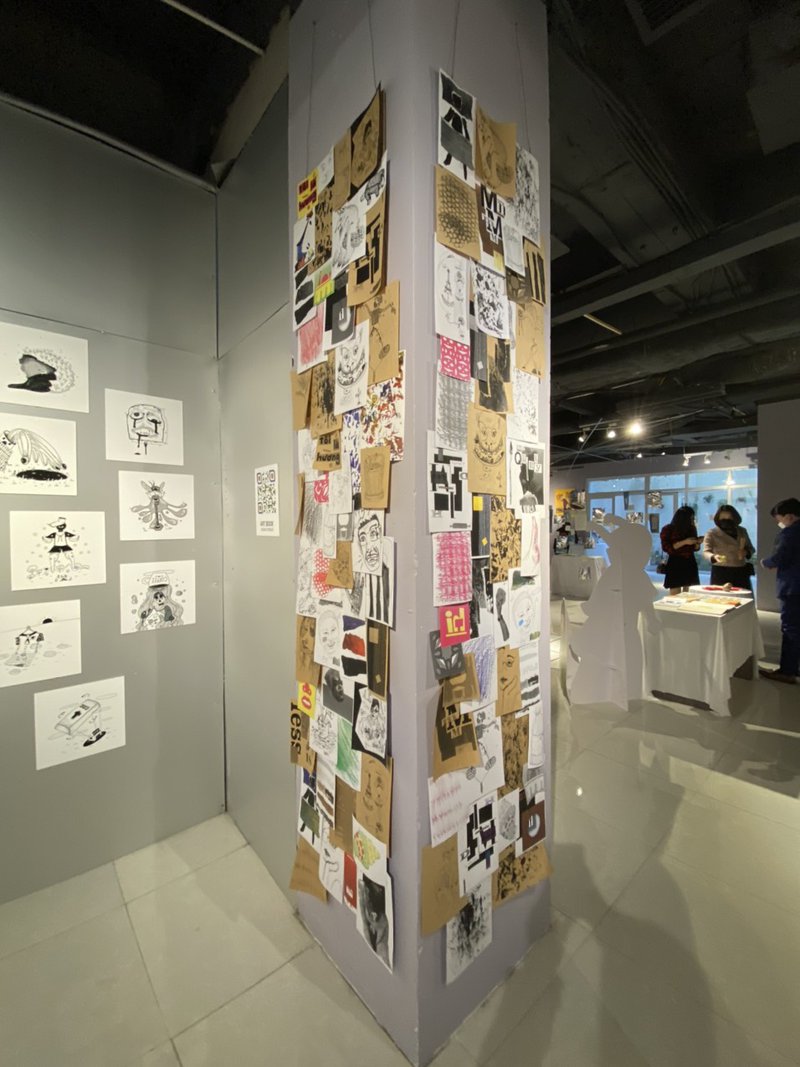 An area displayed experimental works of art in many ways such as collage, printing, color mixing, etc.
Being different from the other projects, Nguyen Thanh Phong's works attracted people's curiosity with an interactive screen as the result of the process of experimenting with the combination of graphics and programming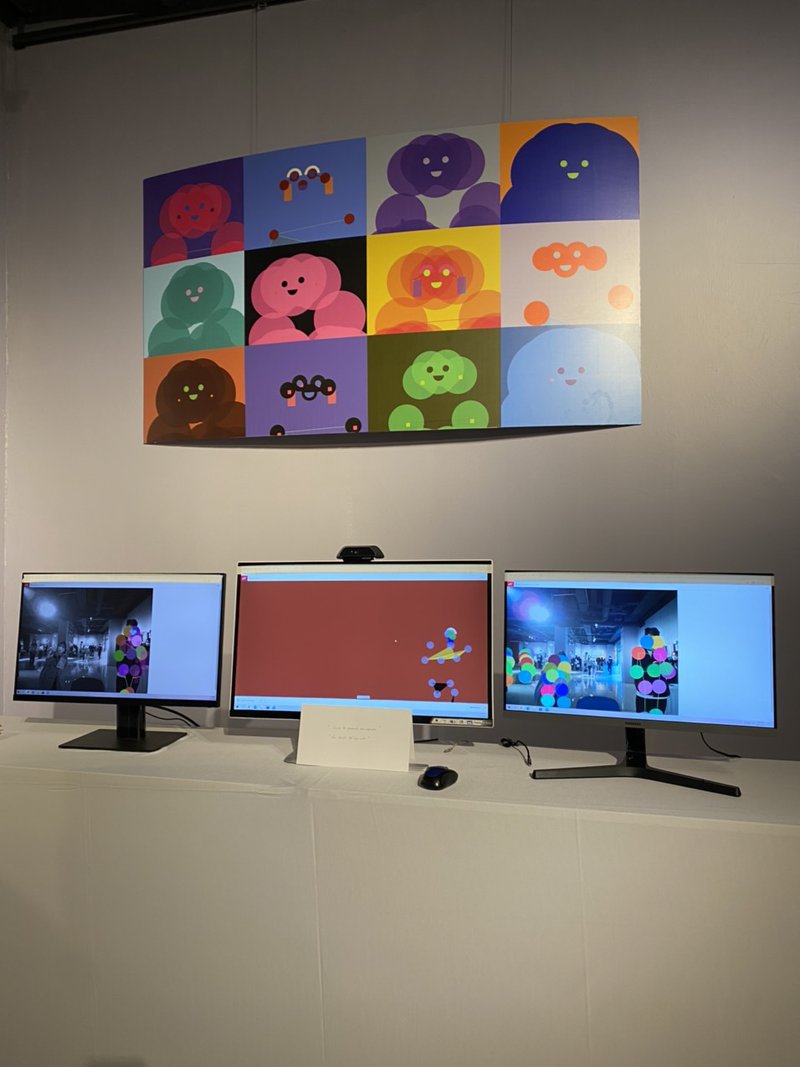 The constantly changing graphics do not overlap when people interact.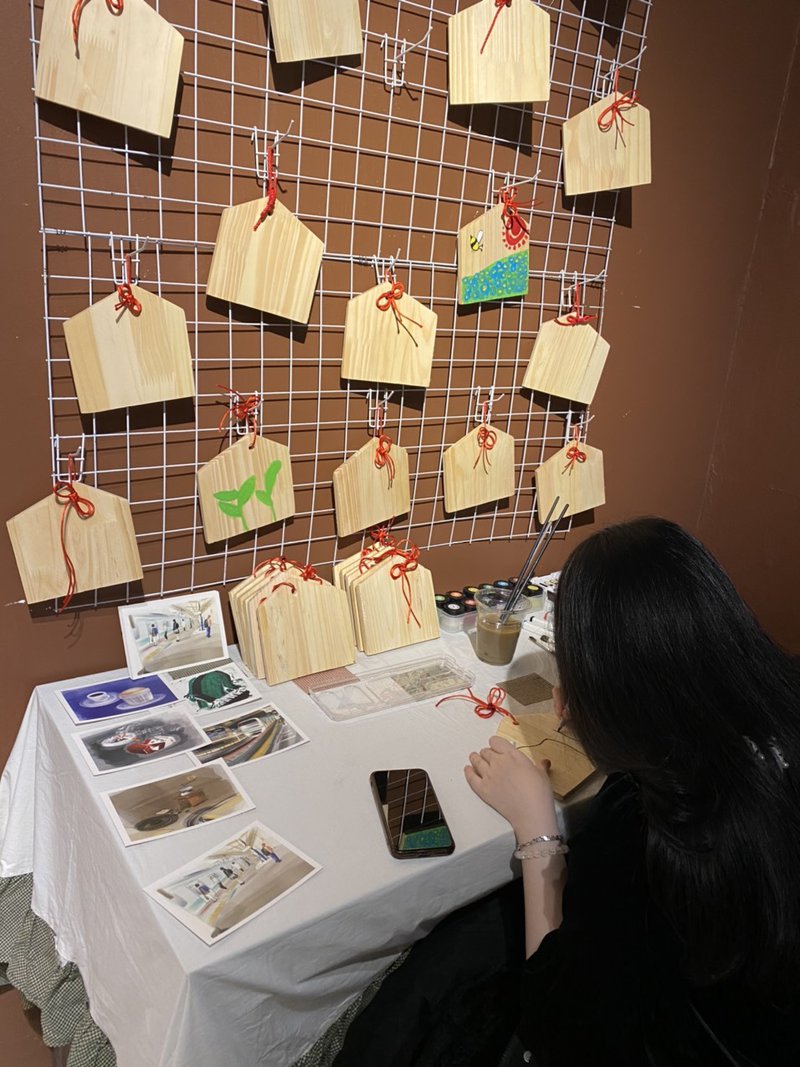 Ngan Ha Minh's book illustrations attracts people to stop by and experiment with wooden cards and crayons.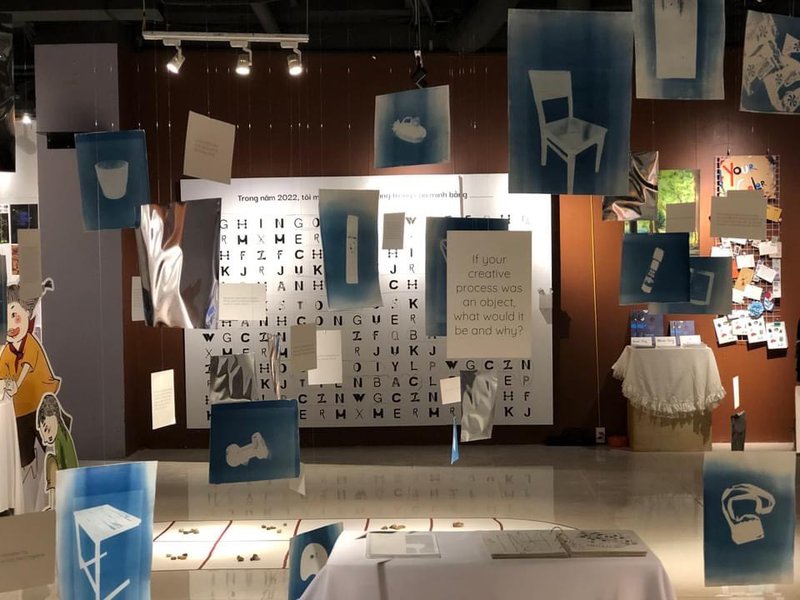 Trinh Ngoc Ha revealed: "Through the form of an installation, the exhibition aims to help participants understand whether professional or amateur, traditional or innovative, diversity will make the creative world. There shouldn't be any barriers in everyone's creative process."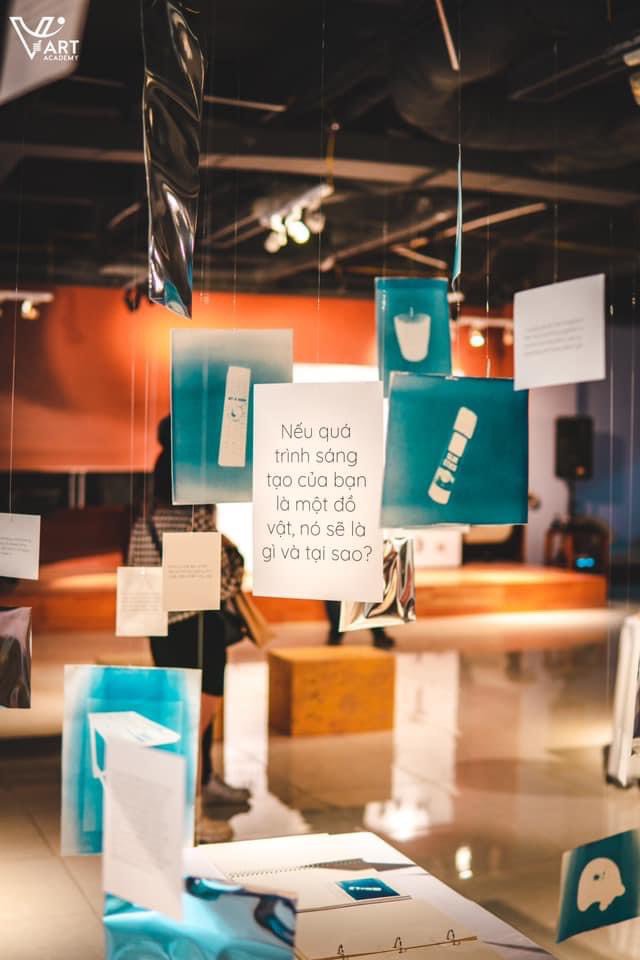 Photo: V-Art Academy.
The graphic design exhibition is a frequent event at London College for Design and Fashion - Hanoi showcasing the learning development of students through their study. Creativity, understanding of the design process, adaptability, ability to catch up with practical works especially in the international environment are the strengths of LCDF-Hanoi's designers after graduation.