Developing your Fashion Business
This course is developed by our experienced British professionals for individuals and enterprises who want to set up and develop their fashion business.
You'll be given up-to-date information about the fashion industry and overview about developing your own fashion brand in digital technology.
What do you need to prepare?
Your Business Plan
Running a fashion business in practice
Product and image development
Designing and sampling a collection through to production
Sourcing fabrics
Working with manufacturers
Costings and pricing
How to sell your collection to stores (eg. trade exhibitions)
Marketing and Promotion
MC Minh Hà

MC Vietnam Television

"I possess a master degree in Business Administration. However, I still had difficulties when I go to work because expectations and realities are always different. The lecturer of the course is specialized in Branding & Marketing and knowledgeable about the characteristics of the fashion industry that other courses can not bring this. "

Duong Thi Phuong Hien

Director, Babeeni Fashion LLC

"The course gives me an overall knowledge about fashion business and make me become more confident to start a new brand."

Ngo Phương Linh

Diễn viên, người mẫu

"The lecturer made the class so exciting and constantly give very up-to-date examples about popular brands. The knowledge that he shared was very practical which gave students insight into their brand and also helped them know what to do when they want to build a brand from scratch."

Quang Trung

Director, Vietnam Brand Ambassador, LLC

"This course helps me to re-position my brand in the market based on core values. More important, I have more ambitious vision towards the high end market."

Thuy Hang

Founder, KIEU fashion brand

"Aesthetic isn't everything. A critical and strategic mindset is what really matters."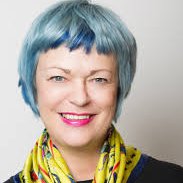 Vivienne Austin
Senior Fashion Lecturer
Vivienne Austin graduated from Central St. Martins and recently obtained a Masters of Arts degree in Fashion & the Environment at the London College of Fashion. She has taught fashion courses in various colleges and universities in the UK, including the Royal College of Art, Winchester School of Art (BA Course) where she mentored students developing their final collections for graduate fashion week (GFW).
Vivienne has been head designer at several ready-to-wear and sportswear companies in the UK and in the USA. Creating swimwear/active wear collections for an array of established companies ranging from large distribution groups, such as Sara Lee and Liz Claiborne in the USA, to exclusive high-end labels including the British heritage brand Liberty. She's also worked as a design consultant for Courtaulds, a major supplier to Marks and Spencer and developed the first swimwear collection for the iconic brand 'Biba' for House Of Fraser.
How to Apply
You can apply the course online or obtain application form from our college.
For further information on how to apply, please visit the How to Apply page.